Dr. Elliott School:
Dr. Elliott School is a K-9 school in Golden Hills School Division #75 and is located at 215 – 1 Street SE.  While many rural areas in Alberta are experiencing the pressures of declining enrollment due to urbanization and smaller family sizes, Linden is a community that is thriving.   Further to that, Golden Hills School Division has approached the challenges of providing a quality education in rural Alberta with creative, out-of-the-box thinking.  Most notably is the establishment of learning communities where several villages are partnered together to share resources, manage funds, and create common learning experiences throughout the year.  Dr. Elliott is one of three schools in the Tri-Campus Learning Community of Acme, Carbon, and Linden.
Wellness:
Health and wellness are vitally important to Dr. Elliott School and the Village of Linden.   We know that students learn best and achieve higher results when they feel good about themselves and the school they attend.   Together, we are committed to ensuring that the wellbeing of our students is taken care of.  The Village of Linden is a Choose Well Community and supports healthy initiatives in the school through prizes, resources, funding, promotion, and volunteerism.
Academic Success:
With a deeply rooted history of innovation and excellence, our school produces proud, engaged, connected citizens.  Community partnership and support provides seamless, personalized learning experiences for students in a way that truly embraces an effective model for education.  These strong partnerships foster the development of valuable transferable skills.  Education is customized to the needs of each student.
We achieve academic excellence because our students are engaged in meaningful learning.  Our students benefit from real-world, hands-on learning opportunities that challenge and deepen student understandings.  Our students are prepared for a future where creative thinking, critical inquiry, collaborative group processes, and the ability to navigate dynamic work environments are the foundational skills to a prosperous marketplace.
Athletic Performance:
Students that attend Dr. Elliott School benefit from a strong athletic program that allows them to develop their skills and abilities at an early age with the Junior Blackhawks program for elementary students.  In addition, great effort is taken to ensure that any student in junior high interested in playing is able to participate with both A and B teams for boys and girls. In the spring, our badminton and track and field teams are very competitive.  We have a longstanding history of achieving results in all sports at divisions and zones and we are very proud of all of our athletes.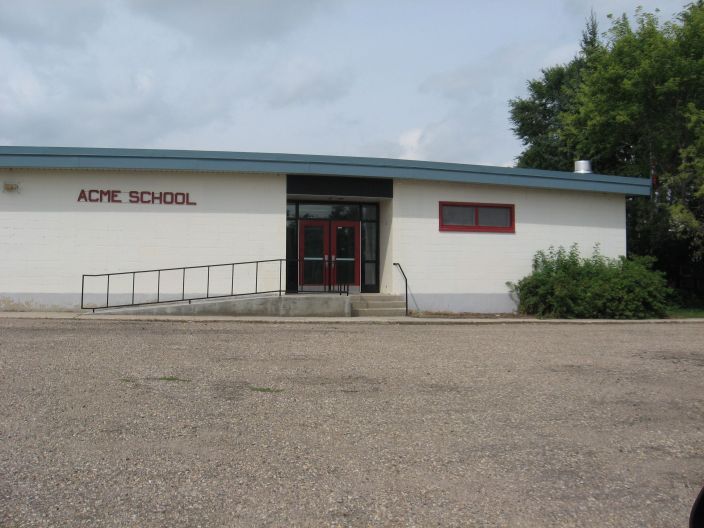 Acme School
Located in the Village of Acme just 10 kms south. It has Kindergarten through grade 6 and grade 10 through grade 12. Continuing to build the academic and athletic promise started in Dr. Elliott School, Acme School takes our high school students to the next level. Our students are lifelong learners because we strongly encourage them to actively seek out and embark on learning opportunities beyond the school day and outside of the school building. We do not believe that learning should be confined by timetables of physical spaces. Our students are prepared for a future where creative thinking, critic al inquiry, collaborative group processes, and the abi lity to navigate dynamic work environments are the foundational skills of a prosperous marketplace.